Clip Mount- Strong Arm Centering Tool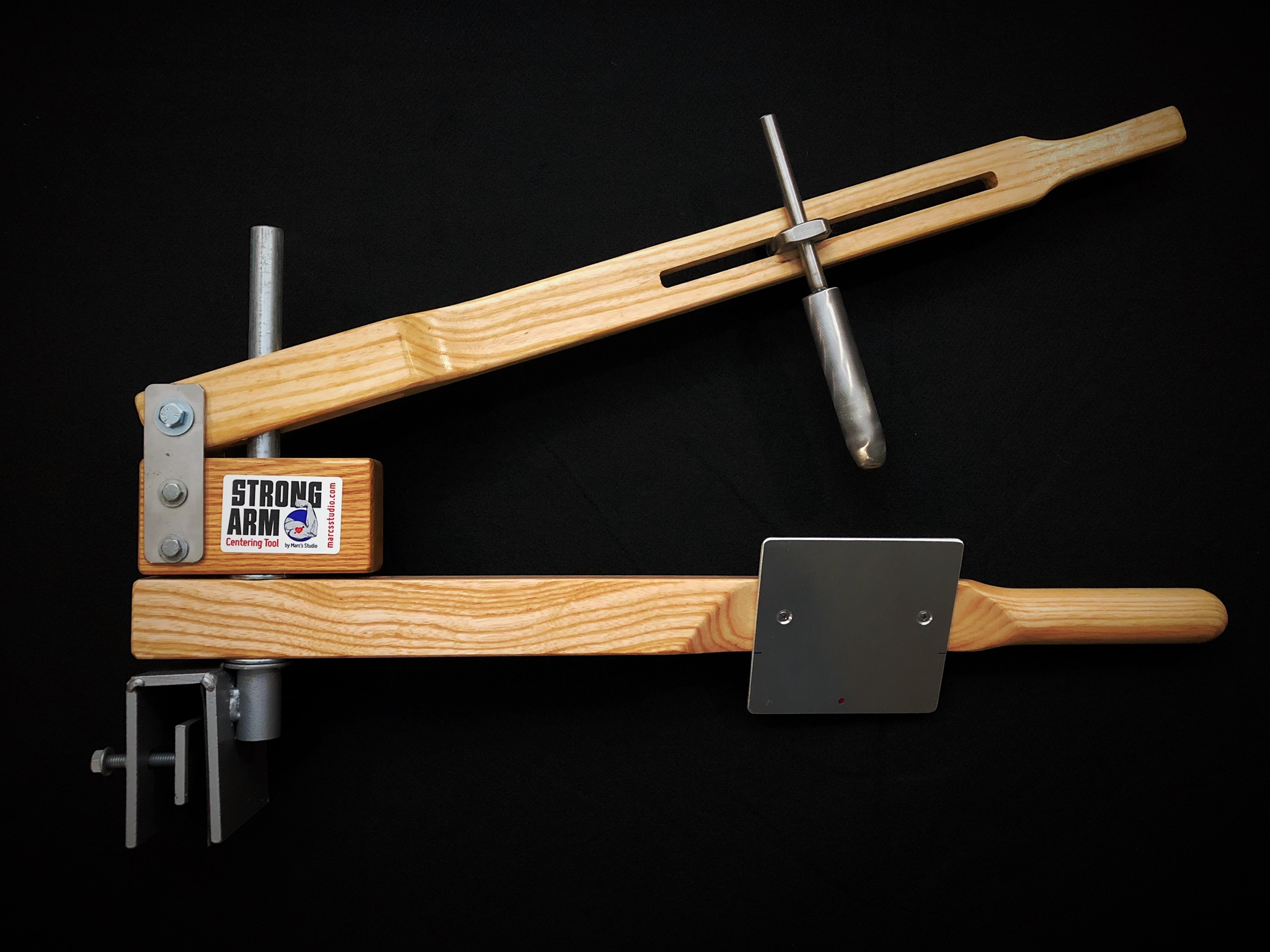 Clip Mount- Strong Arm Centering Tool
The Strong Arm Pottery Tool can be attached to most potters wheels and enable you to throw larger pots, with more efficiency and less physical strain.
This tool is not a jiggering device, it is not cheating. The magic still comes from your hands, your mind and your skills. The Strong Arm Pottery Tool simply aids in centering and opening your clay.
Center and open your clay with a fraction of the time and effort. The tool works great for 1-20+ pounds of clay.
Less water is needed and instantly you start making bigger, better pots. The Strong Arm Pottery Tool also compresses the bottom of the pots extremely well to avoid S-cracks and produces consistent floor depths.
It can be mounted on or next to any pottery wheel using the provided brackets. It can be used on pottery wheels rotating clockwise or counterclockwise.
The Leg Mount fits the Thomas Stuart "Legend" (Metal Splash Pan), "Revolution" and "Premier" (Plastic Splash Pan) as well as the Bailey ST wheel.
Perfect for the professional potter who wants to improve efficiency and increase the scale of their work with less effort. Gain the ability to easily throw larger pots. The Strong Arm Pottery Tool is a great way to reduce the physical stress on joints, wrists and back as it eliminates the need to use a lot of effort to center the clay. This tool will definitely prolong your career in ceramics. Double the size of the pot, double the profits and the value of the work.
An excellent tool to use in the classroom to let pottery students center and open clay faster, leaving more time to learn further techniques. A way to let future potters experience the love of pottery without getting discouraged by having trouble centering.
The Strong Arm Pottery Tool is especially great for potters with disabilities or injuries, who need some help to center and open the clay.
Each Strong Arm Pottery Tool is handmade with care from the highest quality steel, stainless steel and hardwood. Designed to last a lifetime.
Made in the USA.
Inspired by professional potters.
Created by lifelong fine craftsman Marc Gaiger.
A tool for artists made by artists!
30 day Money Back Guarantee.
Handcrafted, Solid Construction It will last!
Throw bigger pots, throw more clay
Eliminated wear & tear on your body
30 Day Money Back Guarantee